2019 Coolest Thing Made In Utah Winner - Bean Trailer
And this past March, Bean Trailers was voted "The Coolest Thing Made in Utah 2019."
Bean Trailers, an 18-year-old manufacturing company, has its headquarters in Salt Lake City (the manufacturing facility is 55,000 square feet) and employs more than 100 people. The company was started by Mark Harling.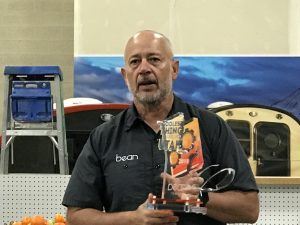 He and his wife enjoy mountain biking but couldn't find the right camper for Utah's wild temperature shifts and varied off-road terrain. Their daughter was pregnant when they came up with the idea of starting a company. Since her unborn daughter was the size of a bean at the time, it seemed like a great name for their similar shaped trailers.
Bean trailers are not the only people to build a teardrop trailer, but they have made a point of building high-quality ones and perfecting the process. Bean Trailers use a molded fiberglass shell that consists of just one piece. The frame is made of powder-coated tubular steel. The composite walls won't rot, and they won't let water through. There's a colored surface made of a glossy gelcoat that is 10 to 12 mm thick. The rear hatch is made of one piece, too, and it includes a molded rain gutter. The fenders, which are also fiberglass, are removable.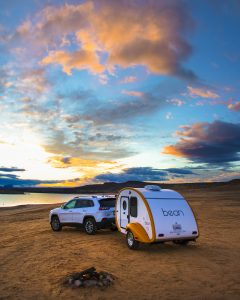 If you want a teardrop trailer, the Bean Trailer is a solid choice. They include a spacious central space, big enough for a queen-sized bed that can be converted into a cushioned seat, and a lift-up rear hatch on the back of the trailer that covers a galley-style kitchen. There is a pass-through between the galley and the cabin. Bean Trailers can be towed by a truck or by a regular SUV. Storage is tucked into every possible place. They also have electricity.
Bean trailers come in several different versions:
The Bean Stock has a dry weight of 1399 lb and a tongue weight of 165 lb.
The Classic Bean has a dry weight of 1490 lb and a tongue weight of 185 lb.
The Mean Bean has a dry weight of 1650 lb and a tongue weight of 200 lb. It is meant for more of an off-road experience, and it has a traditional angled torsion axle that adds two extra inches of ground clearance.
The Meaner Bean is a Mean Bean with Timbren's Axle-less trailer suspension system. It doesn't use a through axle, which means you have the same amount of ground clearance at the front of the trailer and the back of the trailer. The weight is about 100 lb less than the Mean Bean because of the different suspension system.
Customers can build the trailer they want, starting with color and adding amenities like a star gazing roof, awnings and shower systems.
Bean Trailers are cool. The coolest, and this company has the votes to prove it.